There are a lot of ways to track your food intake and macros. There's a bunch of apps, or, if you're real old fashioned (like my husband) you can even use a journal and calculator to do it. Choose the way that works for you – all that matters is that you do track. Because, trust me, its awful hard to do keto intuitively especially at first. Those sneaky carbs add up!
---
I post more info on MyFitnessPal and Carb Manager below, but Cronometer is far and away my preferred app.
---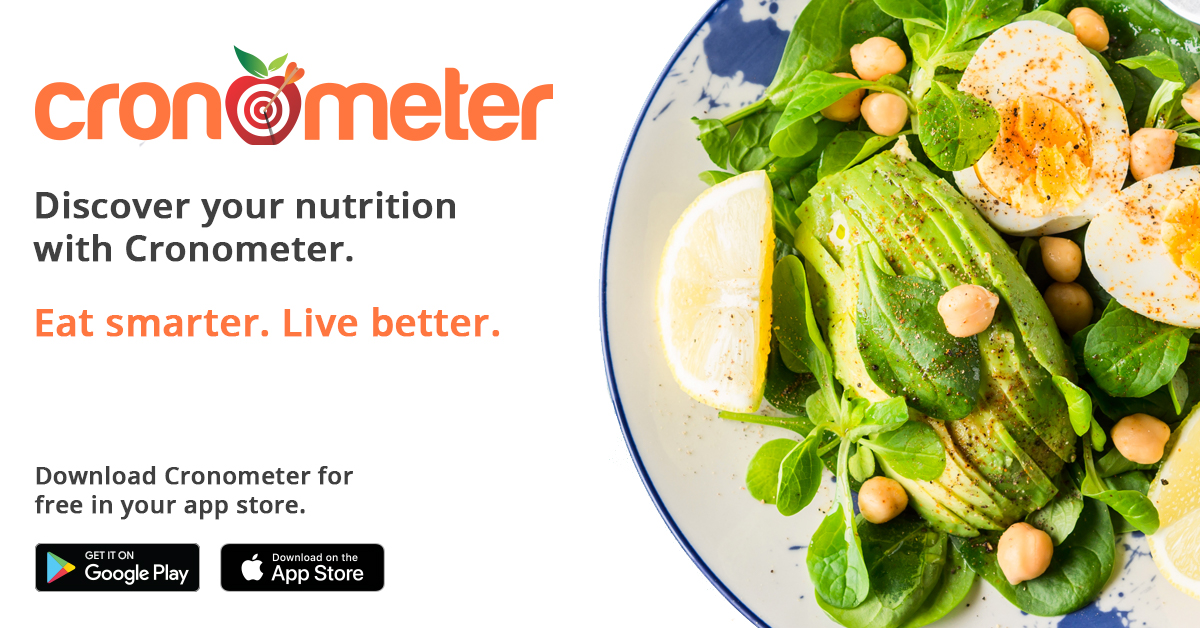 So, how do you set up Cronometer for a ketogenic diet?
(Screenshots are at the bottom of this post if you get stuck, I just didn't want to clog up the instructions!)
Download the app or register on their website. (Their website is shockingly good, you might actually prefer it to the app!)
Enter the initial setup data. From the settings tab, edit the following:
Activity level: Select the activity level that best fits your lifestyle.

If you wear a Fitbit or other device all day, then select 'none' and then connect your tracker.

Weight Goal: change your 'weight goal timeline' to your desired weight loss speed. This should not be more than:

1 pound a week if you have less than 75 pounds to lose
0.5 pounds a week if you have less than 15 pounds to lose

Macronutrient Targets:

Track carbs as: net carbs
Set macros using: keto calculator
Select keto calculator: custom
Grams of protein per kg of lean body mass, set to a minimum of:

1.6 if you are very sedentary
1.8 if you work out, but it's mostly cardio and sore muscles are seldom
2.0-2.2 if you have a regular muscle building workout routine
2.2-3.3 if you are an athlete, or in a serious bulking season

Set grams of non-fiber carbs per day to:

20g if you want to stick with a number thats guaranteed to work for 99% of the population
25g if you want a number that works well for most vegetarians. If the majority of your carbs are coming from veggies, and you only eat sugar alcohols / sweeteners as a rare treat, you're probably ok here.
30g if you do not eat keto junk food (artificial sweeteners, sugar alcohols, or commercially sold low carb bread substitutes), and are religious about tracking all of your food. This number is one that many vegans or 'clean keto' practitioners find more sustainable. You can also go with this option if you work out on a regular basis. Just be careful, because there is no 'buffer' built into this one.

Athletic Bonus should be off (unless you do carb cycling, but that's some level 12 stuff)

Nutrient Targets -> Minerals

Potassium: turn on custom, and set the minimum to 3500mg (maximum 4700mg)
Sodium: turn on custom, and set the minimum to 3500mg (maximum 4700mg)
---
Using Cronometer to track
Now you're set to go! Just click the + button to add your food and exercise. Pro tip: instead of scanning the barcode, search for the generic versions and look for foods with the source "NCCDB" so that you get credit for the micronutrient content of your foods.
When you go to the diary tab, you should see a status bar across the top. By swiping left on that status bar, you can get more information.
The far left bar shows calories consumed, calories burned (how many you could eat and maintain your current weight), and calories remaining/over (to hit your goal weight loss)
The second bar is the most helpful. It shows you your macro breakdown for the day. Protein and carb allowances will always be set, and fat will fluctuate to match your activity level. Remember, protein is a minimum, carbs are a maximum, and fat can vary to hit your calorie goal.
The third bar shows micronutrient targets, and you can change what you show there from settings -> nutrient targets -> highlighted
If you have Gold, you can turn on the far right tab, which is for fasting tracking
You can also tap the three stacked dots at the top right of your screen, and select "daily nutrition summary" for lots more data.
---
If you've followed all these steps, but something doesn't look quite right:
The most important rule of weight loss is not to starve yourself. Weight loss shouldn't feel like suffering. One benefit of keto is that over time it regulates hunger hormones and allows the weight to come off naturally. That means, if you are hungry, chances are that hunger is 'real'. Even the most advanced calorie estimator in the world is just a guess – so listen to your body.
If you set 0 activity because you're using a fitness tracker:
If you set 0 activity, then your day will start out with your BMR minus your calorie deficit goal (Eg 1300-500=800 goal). Don't worry, it won't stay that low. As the day goes on and your tracker registers activity, you'll get more calories added to your goal, ending up at something much more reasonable just in time for 11:59pm. It's actually a bit annoying, because I always end up about 20 calories 'over' at 8pm when I log, but then midnight rolls around and I'm right on track.
Its really, really not a good idea to eat less than your BMR. So if you ever forget your tracker for the day or something doesn't add up, its a safe bet to eat your BMR at a minimum.
If you end up with less fat than protein,
or a calorie target lower than your BMR:
Its not a requirement that your fat be higher than protein, but if it ends up that way, its a good hint your calories are too low. Its also really not a great idea to be eating less calories than your BMR.
Particularly as you get closer to your goal weight, weight loss slows down and its even more critical to keep your calorie deficit at safe levels so you don't risk long lasting / serious damage to your hormones and metabolism. Maximum safe weight loss is 0.5-1.0% of your body weight per week. Which means, as you get into those last 10 or so pounds, its pretty normal to have to reduce your deficit to 0.5 pounds/week (or 250 calorie deficit instead of 500).
Solution: Change your activity level or weight loss goal to something more reasonable.
If you work out:
Consider the importance of fueling your body, and change your settings to a more gradual weight loss goal. The good news is, your body doesn't turn protein into fat. So if your protein is higher, you can probably eat more total calories and keep losing weight.
Make sure you're logging your workouts (plus sign -> add activity). Its important to eat 'net calories', meaning your count your calorie deficit AFTER you add your workout. For example, if your calorie target is 1500 but you work out and burn 300 calories, your new calorie target for the day is 1800. Thats an extra 300 calories (33g) worth of fat!
If you've tried all that and still things aren't working, email me! ketovegetariangirl@gmail.com
---
If Cronometer isn't for you, here are some other options:
MyFitnessPal – I actually really love MFP. It's what I used until I discovered Cronometer. It has the biggest food database and is very simple to use. There are just two catches that make it tricky to use for keto.

It doesn't calculate net carbs for you (unless you pay). That means you have to go into your diary, or the food listing, and manually subract fiber from total carbs to get your net carb intake for the day. Fiber doesn't impact ketone levels or glucose, so there's no reason to count it against yourself. Besides, fiber is good for you so don't skimp!
It doesn't let you set your macro goals by grams instead of percentages (unless you pay). Here's the thing, your body's protein needs and carb tolerance are based on your lean body mass, which has nothing to do with how many calories you eat in a given day. So the percentage way of calculating macros is fundamentally flawed. It also makes it really tricky to set a firm upper net carb limit in MyFitnessPal, which means, again, more manual calculation.
So what can you do if you like MyFitnessPal but want to modify it to fit the ketogenic diet? Just override the automatically calculated macros! You can use ruled.me to calculate your macros, but one warning: people notoriously underestimate their body fat, which again results in low calories and protein. So make sure you double check your calories against another source, like this one (subtract up to 500 calories for a safe deficit) to make sure you guessed your fat % correctly. Then go ahead and adjust the percentages to try to make it fit as well as possible. I tend to aim for 15g fiber a day, so your total carb goal might look something like [20g net carb + 15g fiber = 35g total carb]

Carb Manager – this one is popular because its marketed specifically to keto. But, on principle, I can't recommend it because it tells people to starve themselves.

Carb Manager uses a 'dumb' calculation to determine your macros that doesn't check against BMR. What that means is it subtracts too many calories, with no lower limit. I've seen it tell people to eat in the order of 750 calories a day! You can do really, serious, long term damage to your metabolism and thyroid by eating like that. Unless you're a woman under 5 feet, you don't need to eat less than 1,200 calories a day, period. And for most people, a safe and sustainable calorie level is above 1,500 calories a day.
Carb Manager uses the protein recommendation from the 'classical' ketogenic diet, which was developed for children with seizures. Modern science has shown that this low level of protein has negative consequences and is actually not necessary to sustain ketosis or even prevent seizures.
So what can you do if you like Carb Manager but want to set healthy and obtainable macro goals? Just override the automatically calculated macros! You can use ruled.me to calculate your macros, but one warning: people notoriously underestimate their body fat, which again results in low calories and protein. So make sure you double check your calories against another source, like this one (subtract up to 500 calories for a safe deficit) to make sure you guessed your fat % correctly. Then go ahead and adjust the percentages to try to make it fit as well as possible. I tend to aim for 15g fiber a day, so your total carb goal might look something like [20g net carb + 15g fiber = 35g total carb]
---
Screenshots: